Page being modified
Happier YOUth in a Healthier EU 2020 – 2022 (extended 2023)
5 establishments/5 young participants per establishment 
Le Werner Von Siemens Gymnasium de Bad Hartzburg, Allemagne
L'Educesa SL, European International School of Barcelona, San Cugat des Vallès, Espagne
Le Cartesius Lyceum, Onderwijsstichting Esprit, Amsterdam, Pays Bas
Le Sultangazi Cumhuriyet Anadolu Lisesi, Istanbul, Turquie
Ozanam high school, Lille, France 
The theme of this new project: Health, Sport, Well-being around six themes: Eat healthy Be wealthy / Be kind to your mind / Be smart, don't start / Life on, Internet off / Move your life / Together in a good spirit.
5th Erasmus+ Project : Happier YOUth in a Healthier EU
GENDERS MATTERS 2019 2021
3 establishments / 5 young participants per establishment
A project on the theme of gender equity (clichés, stereotypes, history, looking to the future, situation in the different participating countries)
Partner institutions:
Friedrich DESSAUER of Frankfurt, Germany
Takev Anatolian High School of Samsun, Turkey
and Ozanam High school of course
Our first meeting in Brussels and Lille for our Erasmus+ Gender Matters project
ARCHIPELAGO 2018 – 2020
A LINGUISTIC AND SCIENTIFIC ARTISTIC PROJECT associating theatre, music, dance and visual arts
5 establishments/5 young participants per establishment
Lycée français, Valencia, Spain
Ste Catherine's British school, Likovrisi, Greece
Takev Anatolian High School, Samsun, Turkey
Lycée Beaussier La Seyne/Mer, France
Ozanam high school, Lille, France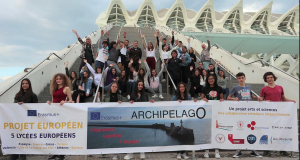 Archipelago Workshop
Show must go on for our Archipelago Erasmus
Our Project Erasmus+ Archipelago comes to an end
Erasmus+ Archipelago, a "hybrid" final production
100 YEARS AFTER OUR FUTURE BEGINS 2017 – 2019
4 etablishment/5 young people per etablishment
A project based on 4 themes :
Migration in Europe over the last 100 years
the populisms in the 20th century to the present day
The Europe in transition
The vision of today's young Europeans for the next 100 years
100 Years after, our future begins
THE WAR TO END ALL WARS. THE FIRST WORLDWAR IN A EUROPEAN PEACE THEATER
2016 – 2018
3 establishments/13 young people per establishment
An artistic creation with a tour and 9 performances in 3 different countries
Project labelled "Centenary of the First World War".
This project received the Robert Bosch Foundation's "on y va" award and the European Quality Label 2018.
https://lewebpedagogique.com/firstworldwareuropeantheater/